Upcoming Events at the Museum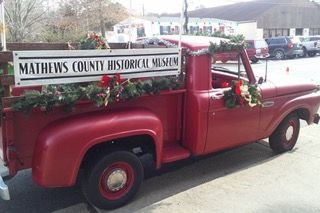 The  Mathews Historical Museum will once again host its 4th annual Christmas indoor bazaar, Friday, December 8 and Saturday, December 9, offering products ranging from handcrafted jewelry  to woodworking, pottery and food items. Located at 200 Main Street, the Museum is a convenient location from which to view Santa's arrival in the Christmas parade on Saturday.
Enjoy the festive storefronts on Main Street, and the Museum's lovely Christmas decorations  which have become one of the highlights of the Christmas season in Mathews County.
Inside the Museum, area artisans are on hand to discuss their work. A selection of special Mathews edition prints and trivets by nationally acclaimed artist P. Buckley Moss are still available.
Hours are from 9:00 am through 4:00 pm, both days.  For additional information, contact
cbbbb@va.metrocast.net
or go to
www.mathewsvamuseum.org
.
Museum Hours
Every Saturday the Museum will be open from 10:00 am until 2:00 pm, with our famous hot dogs and homemade chili served.