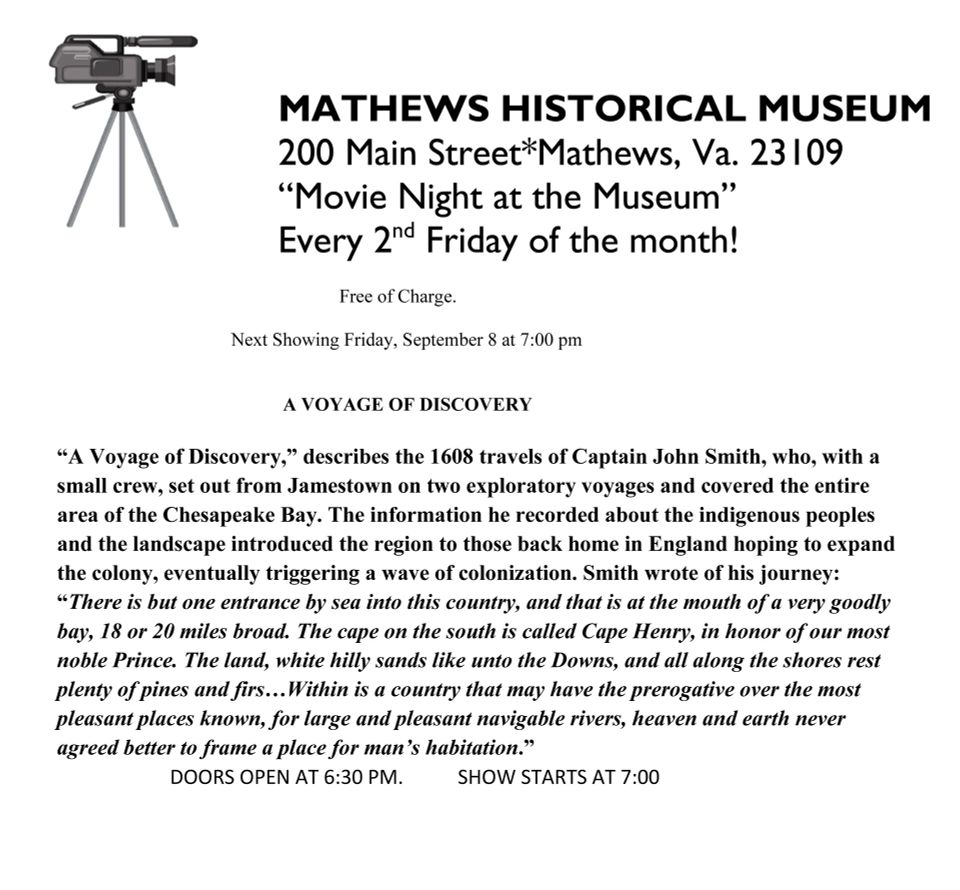 MATHEWS HISTORICAL MUSEUM, 200 MAIN STREET, MATHEWS
MOVIE NIGHT AT THE MUSEUM, 2nd Friday of every month. There is no cost for these events.

Coming attractions:
September 8
"A Voyage of Discovery," describes the travels of Captain John Smith, who in 1608 with a small crew, set out from Jamestown on two exploratory voyages which covered the entire area of the Chesapeake Bay. The information he recorded about the indigenous peoples and the landscape, introduced the region to those back home in England who were hoping to expand the colony, and thus triggering a wave of colonization. One of Smith' writing of his journeys:

"There is but one entrance by sea into this country, and that is at the mouth of a very goodly bay, 18 or 20 miles broad. The cape on the south is called Cape Henry, in honor of our most noble Prince. The land, white hilly sands like unto the Downs, and all along the shores rest plenty of pines and firs ... Within is a country that may have the prerogative over the most pleasant places known, for large and pleasant navigable rivers, heaven and earth never agreed better to frame a place for man's habitation."

Doors open at 6:30, show starts at 7:00.
October 13
The Legacy of Gilbert Klingel: Man of Steel," by award winning filmmaker and director, Dave Miller. "The film is the untold story of Klingel, a Chesapeake Bay pioneer, naturalist, author, diver and boat builder. Klingel accomplished so many things in his lifetime that his story needs to be told as an educational, historical and inspirational film to folks today," says Miller. Klingel is the author of three books, was an underwater diver, and built one of the Chesapeake Bay's first diving bells. He later built a shipyard on Gwynn's Island. Klingel is best known for building, by hand, 30-75 foot boats with steel hulls. Dave Miller is an award-winning filmographer and a resident of Virginia, presently working on productions centered on telling the stories of the
Chesapeake Bay.

Doors open tat 6:30, show starts at 7:00.
Upcoming Events at the Museum
Museum Hours
Every Saturday the Museum will be open from 10:00 am until 2:00 pm, with our famous hot dogs and homemade chili served.